In Late 1945, the first full time crash fire rescue service was appointed. The full time members were, Malachy Quinn (Chief), Joe Lynch and Dinkie Nolan (Leading Firemen), Son Kelly, Pearse Kavanagh and Paddy king (Firemen), Tom Doyle (Ambulance Driver), and Owen Sheridan (Mechanic), Jim Galvin and Paddy Hughes were appointed full time wardens (Airport Police).


---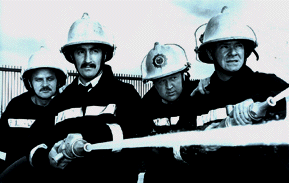 Tommy, jack, Ray, and Charlie hard at work!!!!

The equipment used at that time was a Merryweather fire engine, an ambulance and a lorry carrying rescue and earth shifting tools. Prior to 1945 the service which existed consisted of staff members performing on a part time basis. The need for a full time service arose as a result of expansion envisaged for commercial aviation and ground facilities required to meet the expansion. The Airport fire-fighters are trained on site at Dublin Airport, with the service providing its own B.A smoke house, which can also be adapted to simulate the inside of an aircraft. The fire service has built a number of towers at different heights, with mock engines which are ignited to simulate on board aircraft engine fires.


---

Training in conventional fire and rescue techniques is also standard as the fire-fighters also provide fire cover to the whole of Dublin Airport with its many aircraft maintenance workshops, fuel storage yards, hotels, main terminal building, huge car parks and numerous other facilities. The majority of fire-fighters are first responder trained, plus a select few trained to E.M.T level . It is envisaged that all fire-fighters will be trained up to E.M.T level in the near future. This allows the airport to have its own in house ambulance. They respond to all medical emergencies , these can range from cardiac arrest to a cut finger.